Our best account
MyPoint's MyVIP Checking account is one of the best in California! MyVIP comes with all the perks of MyPoint+ plus the ability to earn interest on your checking account, increased levels of protection, and more.
Compare our checking accounts
.
You can get the following features with a MyVIP Checking Account
Our best account for only $10 per month
Interest on your checking balance

Buyer's protection & extended warranty1,2

Newly purchased items are protected for up to $2,500 per item if theft or accidental breakage occurs during the first 180 days of purchase, when purchased using your MyPoint checking account.
Local discounts and national retailer deals to save you money on shopping, dining, travel and more.
Powered by BaZing
.
Receive up to $600 per claim ($1200 per year) if your cell phone is broken or stolen.
Available 24/7 and free to use, up to $80 in covered service charges.
$25,000 accidental death coverage2

Peace of mind for the unexpected.
Save money on prescriptions, eye exams, frames, lenses and hearing services.
1B Credit Monitoring3

Credit report and credit score

Fraud resolution

$10,000 Personal identity theft benefit1,2
Additional credit union benefits

One free box of corporate image checks per year

Free cashier's checks

Free notary
Value. Power. Protection.
For an ultimate banking experience above the rest - MyVIP Checking, better than best.

---
1 Cell phone protection, buyer's protection and extended warranty, and personal identity theft benefit are subject to additional terms and conditions.
2 Insurance products are not a deposit, not federally insured, not an obligation or guaranteed by the credit union, its affiliates, or any government agency.
3 Additional activation is required.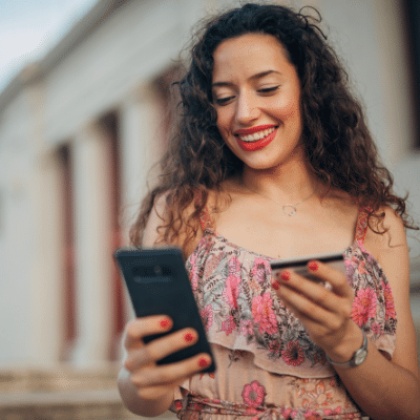 Shop Local and Save Local with our New Checking Account
Packed with features, benefits, and perks, these new checking accounts will provide you with the highest level of security, as well as ways to support local businesses while saving money!